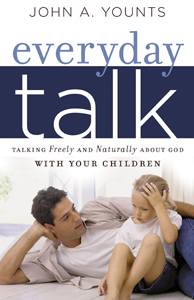 Read a review ofEverday Talk
on Challies.com

John (Jay) Younts is the author of Everyday Talk: Talking Freely and Naturally About God with Your Children, What About War?, In Touch with Paul Stewardship Series.
An elder in the Associate Reformed Presbyterian (ARP) Church, John has taught on and studied issues related to biblical child rearing for over thirty years.
John is a frequent speaker for parenting conferences, church seminars for parents, and youth meetings. He has been interviewed on radio stations around the country.
He and his wife Ruth have five grown children and reside in South Carolina.
"If you are a parent, you need this book. Go out and buy it now and read it as soon as you can. Trust the words of a man who regrets many of his little-moment words, this book will rescue you from you, and in so doing, it will enable you to be a better parent to the children God has placed in your care. If you are not a parent, you need this book as well, because every day you speak words that are shaped by God's kingdom or yours. Everyday Talk will make you listen to what you say as you react to the situations and relationships of your daily life."—Paul Tripp